Bolivia – La Paz & Uyuni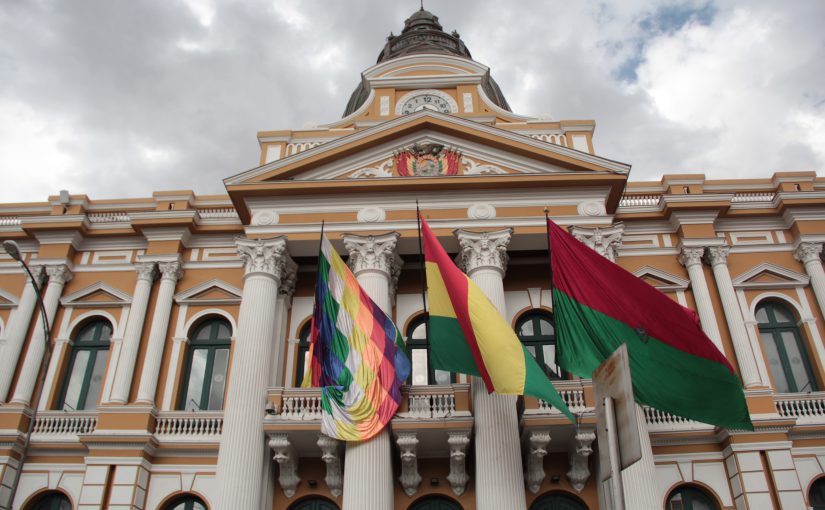 [Dutch version below pictures]
From Puno we take the bus to La Paz and after a few hours drive, we reach the border.
We cross the border by foot and then it's already time for a new passport stamp! Something that makes us stamp junkies very happy :).
After arrival in Bolivia, we first need to cross another part of Lake Titicaca to be able to continue to La Paz. Crossing the water turns out to be quit the challenge.
Everybody leaves the bus and needs to cross the water on a speedboat. Doesn't really sound that challenging? Of course the bus itself can't fit a tiny speedboat and therefor needs to be pushed on some kind of wooden raft. To get on the raft, the bus is pushed on shelfs that need to be moved up front by a Bolivian boy, in order for the tires to get back on it.
The raft isn't the most stable one and the bus rocks back and forth, while we're on the other side saying silent goodbyes to our luggage already. However, after about 20 minutes the bus reaches us safely.
This is typically Bolivia.
As soon as we drive into the landscape of Bolivia, the surroundings and the people look different. Faces are characterized with red cheeks of harsh wind and the mountains are more untamed.
It's pretty unlikely to see such a different only five minutes after crossing the border. Is that even possible? Who knows.. after all it's just our own experience.
After a bus drive of 10 hours we arrive in La Paz. It's late in the afternoon and there is a huge traffic jam in the city. Our driver decides that he can't reach the bus terminal and tells everybody to just get off at this random place in the city.
Before leaving we have studied the map to our hotel pretty well, so we decide that it can't be far and bravely we pull our trolleys through the crowd of people in search for our hotel.
Luckily we find it within 15 minutes.
Right from the start La Paz turns out to be a crazy, crowded, hectic city. A totally different kind of chaos than Lima, more old fashioned, more dirty, but most certainly also with its own charm.
We are lucky today, the 16th of July is Independence day in Bolivia and it's one big party in the city. After our long journey we're not necessarily in a party mood, but we decide to drink to Bolivia's independence with a traditional drink at one of the fun drinking stands downtown. The drink consists of whipped cream, condensed milk, some spices and of course alcohol. It's sweeter than sweet, but definitely tasty.. Salut!
In Peru we are a little bit spoiled with kind and helpful people. In Bolivia we quickly notice that there is a slightly different mentally towards strangers. Bolivians are also kind people, but just a bit more distant and less approachable. Later on we hear that this is truly a part of their culture, you first have to win someone over and then you're in for life.
We are only here for ten days to win some people over, but hey; challenge accepted!
On our first day in La Paz we cross a very beautiful square, called "Plaza Murillo". The days after we keep coming back to this square. There's always happening something, it's the best place to do some people-watch and there is always someone who is coming over to chat a bit. Especially the Bolivian grandpa's have their eye on Kavita and like to talk to us.
The square is named after Pedro Domingo Murillo, a freedom fighter who plays an important role in the independence of Bolivia. During the weekend of the 16th of July it's super crowded on the square, because people come to honour him. They even hire an actor to play the role of Murillo.
Important government buildings are placed alongside the square. The buildings have three flags on the ridge, one flag of the country, one flag of the city and one flag of the Amayra, the biggest tribe living here before the Inca empire.
The first few days exploring the city, we notice that Bolivians are very focussed on their families and we see a lot of young, teenage parents. Later on we learn that this is supported by the government through commercials and allowances.
The city organizes a lot of events for the entire family, like little plays on the street, and families go out together to relax on the city's squares.
During these family outings, eating seems to be very important. From the wide variety of snacks to drinks, everything is sweeter than sweet.
The only exception is the popcorn, which is offered in huge portions on wheelbarrows. One way or the other, at the end of the day all wheelbarrows are empty.
In La Paz we take part in the walking tour of the organization "Red Cap". With an entrance fee of only 3 euro's and a very interesting tour, this is a must do for your trip to La Paz.
The tour guide shares a lot of interesting stories about the city and the country, some funny or nice, some a little dark or worrying.
An interesting and funny story is the one concerning the folkloric outfits of the Cholita's. Cholita's are the traditionally dressed women, mostly firmly build and with long braids in their hair, wearing long, thick skirts, a vest and always a high, small hat in an earthy colour.
The hat was not always a part of the outfit, but became a part of it in a very funny way.
A Bolivian entrepreneur once ordered a huge stock of hats from Italy, with the plan of selling these as the newest European trend to the Bolivian men. The hats turned out to be way too small and couldn't fit the head of any man.
'What to do with all those hats', the salesman must have thought.
He found a very commercial solution: he invited some important Cholita's to his parlour and told them these hats were the latest fashion trend from Europe. The ladies loved it and started wearing them. As influential as these social ladies were, all Cholita's wanted to wear them and it became a huge trend.
After years the hat became symbolic for more than just fashion, it showed the marital status of a woman. If the woman wears the hat up right, it means she's married or taken. Any other position means she's available for a relationship.
Of course with the Spanish suppression, Catholicism became the leading religion in the country. In La Paz local people were persuade to support the construction of a new cathedral by allowing them to have Pachamama influences in the in- and outside of the building. Today you can still see the signs and symbols on the Church walls and ceiling.
A very different kind of story has to do with offering, following an old Bolivian tradition.
They believe that when you want to construct a new building, you need to pay an offer for the use of the ground first. The size of the offer depends on the size of the planned building. For something small, you can offer food. For a regular house, the offering of an animal will be enough. However, for big and public buildings the ground requires a much bigger offering… maybe you can guess by now.
Still to this date there are human offerings brought to construction sites!
Let's state very clearly that it's not allowed by Bolivian law, but human remains under buildings show that it actually still happens. Medicine men roam the streets at night looking for drunk hobo's and lure them to use for their offering. There's a movie about this topic and it's called "Elephant Cemetery". When back in Holland we'll definitely try to see it.
If this is a true story or an urban legend, we'll never know. We're still in shock though and stare at our guide with huge eyes.. brrrr.
During our visit in La Paz we make us of the tips and advice on www.lapazlife.com, one of them being a visit to Calle Jean, a colourful, artistic street with beautiful colonial architecture.
During coffee break we're approached and interviewed in funny Spanglish by a beautiful TV host of the Bolivian television, who would like to know where we're from and what we think of La Paz.
Our 15 minutes of fame! Although they were actually only 2 ;).
Unfortunately we didn't see the airing of the show.
With La Paz as base, you can do as many tours and excursions as you'd like, one of the most famous ones being biking on the "Death Road".
The Death Road is an unpaved road connecting La Paz with different cities, going straight through the jungle. Until a few years back, a lot of drivers suffered deathly accidents because of the road's steep and crazy curves. In the last couple of years they've constructed a new road, making sure cars and trucks don't need to take the unpaved part anymore. Because of this the accidents have decreased enormously. But especially this unpaved part is amazing to bike on a crossbike.
Kavita is not realy interested in biking down a 16.000 feet mountain, but Jolanda can already feel the adrenaline kick in and takes on the challenge.
Together with Kimberly, who we meet earlier in La Paz, we gather at one of the highest points of La Paz, ready to cross our way down.
The first part of the road goes through the mountains and creates stunning views over high peaks and deep, green lows.
Because it's early, there is still some fog to make the view just a little bit more amazing. Because we are biking the paved part of the road we can actually enjoy the views, this is still the easy part.
After biking for an hour we face the separation of the paved and unpaved road, this is where the Death Road starts!
Crossing down the path is really, really cool! It goes so fast, the bike slips every now and then, you might get a little scared peeking down into the valley, but it's just so awesome!
It takes us about 1,5 hours to bike down and it feels pretty special to start off in the cold of a high mountain and end up in the misty warmth of the jungle.
This is all still typically Bolivia though: the last 15 minutes a few brakes stop working. The guide doen't really care, because 'we are almost there'.
But brakes or no brakes, can we please go again?! 🙂
Later on the week we plan a two day trip to Uyuni. From Uyuni you can take a tour to the Salar de Uyuni, one of the biggest salt flakes on earth and the main reason for us to come to Bolivia.
We take the night bus to Uyuni, which we both kind of hate. But this time it's very practical, because we arrive in the morning and can directly go to visit the Salar.
The salt flake is everything you'd expect of it. Because we did a one day tour, the start of the day was a little bit too touristic. We keep bumping into different groups and couldn't really experience the "all alone on the world" feel yet.
But then our guide takes us to a secluded place in the middle of the flat to see the sunset. It's just us and our small group.
It's a truly fantastic moment we honestly can not put in words and therefor we'll let the pictures speak for itself. Enjoy :).
 Vanaf Puno vertrekken we met de bus naar Bolivia. Na een paar uur rijden bereiken we de grens. De grens steken we te voet over en dan is het alweer tijd voor een nieuw paspoortstempeltje! Daar zijn deze stempeljunkies blij mee! 🙂
Net in Bolivia aangekomen moeten we eerst nog een stukje Lake Titicaca over.
Het oversteken van het water blijkt een hele onderneming. Iedereen de bus uit en met een speedbootje over het water. Klinkt eigenlijk niet zo moeilijk?
De bus zelf past natuurlijk niet op een speedbootje. Dus de bus wordt middels gammele, houten planken een soort van vlot opgeduwd, waarbij de planken telkens door een jongen verschoven moeten worden om de voorste wielen er weer op te krijgen. Met heel veel geschommel, waarbij we vanaf de overkant af en toe denken dat we onze bagage niet meer terug gaan zien, komt de bus na 20 minuten aan de overkant aan.
Dit is typisch Bolivia.
Zodra we Bolivia binnen rijden zien de omgeving en de mensen er anders uit. Gezichten meer geweerd tegen de gure wind en ruigere bergen.
Het is best onwaarschijnlijk dat zo'n verschil na vijf minuten over de grens al te zien is. Kan dat eigenlijk wel? Wie weet.. wij ervaren het wel zo.
Na een busrit van 10 uur komen we aan in La Paz. Het is spitsuur, waardoor de grootste straat in de stad helemaal vast met verkeer staat. De buschauffeur besluit daarom dat hij ons niet kan afzetten bij de busterminal en we allemaal maar gewoon eerder moeten uitstappen.
We hebben voordat we vertrokken de route naar ons hotel al goed bekeken en besluiten dat het nooit ver kan zijn. Dapper gaan we op zoek, trolleys door de drukke menigte achter ons aanslepend. Gelukkig vinden we ons hotel redelijk snel.
Wat blijkt La Paz een gekke, volle, hectische stad. Een totaal ander soort chaos dan Lima, ouderwetser, wat viezer, maar zeker ook met z'n eigen charme.
We vallen gelijk met onze neus in de boter, 16 juli is Onafhankelijkheidsdag in Bolivia en dus één groot feest. Na onze lange reis zijn we niet helemaal in de feeststemming, maar toch drinken we bij een gezellig standje in de stad een traditioneel drankje op de vrijheid van Bolivia. Het drankje bestaat uit geklopte room, gecondenseerde melk, wat kruiden en alcohol. Super zoet, maar lekker.. Salut!
In Peru zijn wij verwend met vriendelijke, super behulpzame mensen. In Bolivia merken we snel dat de mentaliteit hier anders is. De Bolivianen zijn zeker niet onaardig, maar wat afstandelijker en minder toegankelijk. Later horen we dat dit echt bij de cultuur hoort en je eerst iemand voor je moet winnen. We zijn hier maar tien dagen, maar challenge accepted!
Op onze eerste dag in La Paz lopen we langs een leuk plein, Plaza Murillo, en de dagen erna blijven we hier terugkomen. Op dit plein lijkt er altijd wel iets te gebeuren, het is er heerlijk mensen kijken en er is altijd wel iemand die een praatje komt maken. Vooral de opaatjes hebben het op Kavita voorzien.
Het plein is vernoemd naar Pedro Domingo Murillo, een vrijheidsstrijder die een belangrijke rol speelde in de onafhankelijkheid. Tijdens het weekend van 16 juli is het op dit plein dus ook ontzettend druk, er is zelfs een acteur ingehuurd om Pedro na te spelen.
Aan het plein liggen ook allerlei belangrijke overheidsgebouwen. Aan de gebouwen wapperen drie vlaggen, de vlag van het land, de vlag van de stad en de vlag van de Amayra, het grootste volk dat hier voor het Inca imperium woonde.
De eerste dagen valt het ons op dat men in Bolivia heel gezinsgericht is, ook zijn er veel jonge ouders. Later horen we dat dit door de overheid gestimuleerd wordt in campagnes en in de vorm van subsidies.
Er wordt veel georganiseerd voor het hele gezin, zoals opvoeringen op straat, en gezinnen gaan veel met elkaar op stap of zitten met elkaar op een pleintje.
Snoepen lijkt centraal te staan bij deze uitstapjes, van de snacks tot de drankjes, alles is zoeter dan zoet. De enige uitzondering is popcorn, wat in massahoeveelheden in kruiwagens wordt aangeboden. En op de een of andere manier zijn die kruiwagens aan het einde van de dag altijd leeg.
In La Paz doen we een Walking Tour van de organisatie Red Cap. De entree is slechts 3 euro en de tour ontzettend interessant, een aanrader!
De tourguide vertelt leuke en minder leuke verhalen over de stad en het land.
Interessant en leuk is zijn verhaal over de klederdracht van de Cholita's. Cholita's zijn de dames in de traditionele kleding, meestal stevig gebouwd en met lange vlechten in hun haar. Ze dragen lange, brede rokken, een vest en altijd een smalle, hoge hoed in een aardkleur.
Traditioneel was de hoed geen onderdeel van de outfit, daar gaat een grappig verhaal aan vooraf.
Een Boliviaanse ondernemer bestelde ooit eens een grote voorraad hoeden uit Italië, om deze bij Bolivianen aan de man te brengen als de laatste trend.
De hoeden bleken echter veel te klein en pasten bij geen enkele Boliviaanse man op het hoofd.
'Wat te doen met al die hoeden?', moet de verkoper gedacht hebben.
Hij kwam met een commerciële oplossing; hij nodigde wat invloedrijke Cholita's uit en maakten hen wijs dat deze hoeden echt helemaal hét waren in Europa. De dames waren helemaal weg van de hoeden en begonnen ze te dragen. Hierdoor werd het een trend en uiteindelijk een vast onderdeel van hun outfit.
Later kreeg de hoed ook een andere betekenis dan slechts mode. Als de hoed recht op de Cholita's hoofd staat, betekent dit dat de dame getrouwd is. Elke andere positie betekent dat ze beschikbaar is voor een relatie.
Tijdens de Spaanse onderdrukking werd ook hier natuurlijk Katholicisme de leidende religie. Wat heel bijzonder is, is dat de Spanjaarden de originele bevolking wilden betrekken bij de bouw van religieuze gebouwen door hen hier Pachamama invloeden in te laten verwerken.
Zo werd er tijdens de bouw van de Sint Franciscus kathedraal ruimte gemaakt voor eigen tekens en symbolen, welke je terug ziet op de muren en plafond.
Een minder leuk verhaal heeft te maken met offeren volgens een oude Boliviaanse traditie. Men gelooft dat wanneer er gebouwd gaat worden, er voor de grond eerst een offer gebracht moet worden. De grootte van het offer hangt af van de grootte van het project op de grond.
Voor iets kleins volstaat voedsel, voor een huis bijvoorbeeld een dier, maar voor grotere, publieke gebouwen moet er iets groters geofferd worden… Misschien raad je het al. Hiervoor worden ook anno 2016 nog menselijke offers gebracht!
Laten we voorop stellen dat het volgens de Boliviaanse wetten niet mag, maar menselijk stoffelijk overschot onder gebouwen toont aan dat het gebruik helaas nog steeds werkelijkheid is.
Medicijnmannen gaan 's nachts de straat op, op zoek naar dronken zwervers en lokken hen mee.
Er is een bekende Boliviaanse film hierover, genaamd Elephant Cementary. Deze gaan we zeker nog proberen te kijken.
Of het echt waar is of een broodje aap verhaal zullen we nooit zeker weten. Wij kijken onze gids met grote ogen aan.. brrrr.
Tijdens ons verblijf in La Paz halen we leuke tips van de website www.lapazlife.com. Zo ook een bezoekje aan Calle Jean, een kleurrijke, artistieke straat, met mooie koloniale architectuur.
Tijden het koffie drinken worden we hier in een mengeling van Spaans en Engels geïnterviewd door een knappe presentator van de Boliviaanse staattelevisie, die graag wil weten waar wij vandaan komen en van La Paz vinden.
Our 15 minutes of fame! Al waren het er eigenlijk maar 2 ;).
Helaas hebben we de uitzending zelf niet kunnen bekijken.
Vanuit La Paz zijn er veel excursies te ondernemen, waarvan het fietsen van de Death Road een van de bekendste is.
De Death Road is een onverharde weg die La Paz met andere steden verbindt en recht door de jungle gaat. Tot een aantal jaar terug kwamen hier veel chauffeurs om door het onverharde deel met scherpe bochten en nauwe doorgangen. Nu is er een nieuwe weg aangelegd, waardoor auto's alleen nog over een geasfalteerde weg rijden en de ongelukken aanzienlijk zijn afgenomen. Maar juist dat onverharde deel is fantastisch om met een crossfiets af te leggen.
Kavita is niet zo geïnteresseerd in een 5 km hoge berg af fietsen, maar Jolanda voelt de adrenaline kick al en gaat de uitdaging aan.
Samen met Kimberly, die we eerder in La Paz ontmoet hebben, staan we om 9h 's morgens op één van de hoogste punten rond La Paz, klaar om naar beneden te crossen.
Het eerste deel van de weg slingert door de bergen en dat geeft fantastische uitzichten over bergtoppen en diepe, groene dalen. Omdat het vroeg is hangt er nog behoorlijk wat mist, om het uitzicht nog mooier te maken. Hier kunnen we ook nog een beetje van het uitzicht genieten, want het is geasfalteerd en dus niet zo lastig fietsen.
Na ongeveer een uur komen we aan bij de splitsing van de autobaan en de Death Road.
Het naar beneden crossen is echt héél leuk!! Het gaat ontzettend hard, je slipt hier en daar, moet af en toe toch even slikken als je de afgrond in kijkt, maar wat is het tof! We fietsen in ongeveer 1,5 uur naar beneden en het is best bijzonder om van de kou op 5000 meter opeens in een warme jungle terecht te komen.
Het is en blijft Bolivia, de laatste 15 minuten stoppen een paar remmen ermee. Dat maakt de gids niet zoveel uit, want 'we are almost there'.
Maar remmen of geen remmen, mogen we aub nog een keer?! 🙂
Later in de week maken we vanuit La Paz een tweedaagse trip naar Uyuni. Vanuit hier kun je de Salar de Uyuni bekijken, de op één na grootste zoutvlakte ter wereld en onze hoofdreden om naar Bolivia te komen.
De reis naar Uyuni leggen we af met de nachtbus, waar we beiden eigenlijk echt een hekel aan hebben. Maar in dit geval is het wel handig, want 's morgens komen we aan en kunnen we gelijk de zoutvlakte op.
De zoutvlakte is alles wat je ervan zou verwachten. Omdat wij een ééndaagse tour doen, is het in het begin wel erg toeristisch. We komen veel andere groepen tegen en kunnen daarom het 'alleen op de wereld' gevoel nog niet helemaal ervaren.
Maar dan brengt onze gids ons naar een plekje midden op de vlakte, waar we met een klein groepje de zonsondergang mogen bekijken.
Een onbeschrijfelijk fantastisch moment, waarbij we graag de foto's voor zich laten spreken. Enjoy :).