Colombia – Antioquia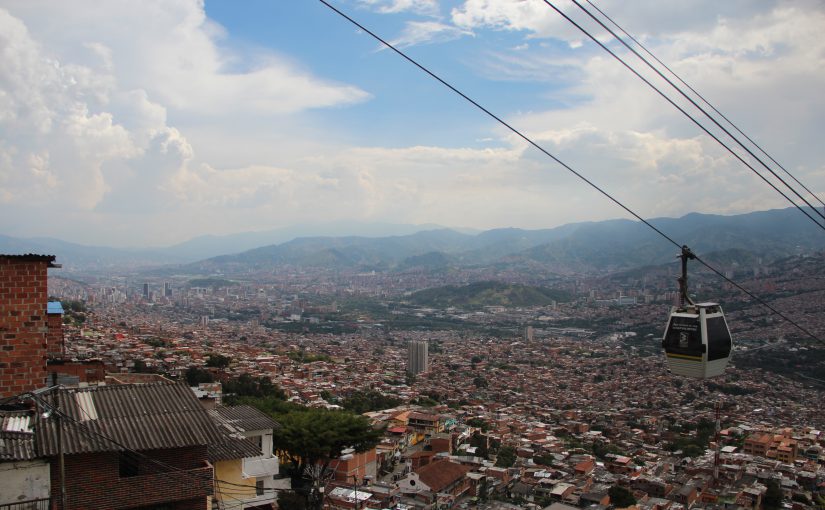 [Dutch version below pictures]
Medellin is awesome. End of story!
This statement pretty much says it all, but of course we love to tell you more about Antioquia, a province in the Northeast of Colombia with Medellin as its capital.
Colombia is getting more and more popular as a travel destination for European tourists and also in Holland we see their slogan 'The only risk is wanting to stay' in commercials or in the paper a lot. And did we want to stay.. And mostly because of Medellin.
Although we said about more cities that we feel their vibe, we feel Medellin the most of all and we know for sure that we'll come back here one day. The friendly people, the Western aspect with its modern shops and metro's, the night life, the lovely spring weather all year round and all the beautiful green throughout the city, there are just so many reasons to love Medellin.
During our time in Antioquia we even come back to Medellin three times! The first two times we stay in the hip neighbourhood "El Poblado", this is where most tourists stay. We stay in hostel "Casa Kiwi", which is a recommendation if you love an open atmosphere with lots of common areas, without being a diehard party hostel. Later on we stay in a beautiful apartment through Airbnb. We choose this one mostly because of the pool in the building, but that one day we want to go swimming it turns out to be closed.
In Casa Kiwi we meet up with some of our friends from the San Blas adventure and we are mostly exploring El Poblado's night life. We especially like the club "Deck", where there are good cocktails, there's a lot of reggaeton and fun people. Time to shake that booty!
The third time that we're in Medellin, we stay in the neighbourhood "La 70". As popular as El Poblado is for tourists, this is what La 70 is to "Paisa": that is what people from Antioquia call themselves. Also in this neighbourhood we rent an apartment through Airbnb. We do grocery shopping, we cook, we have friends living in our neighbourhood. For a short period of time, it feels like living there.
A few years back, Medellin has been announced the most innovative city of South and Mid America because of different progressive projects, of which the new metro system is the most important one. The metro has in this huge, mountainous city a lot of added value and that for an honest price of 0,80 eurocent per trip.
We see a lot of the city. Tips are for sure "Pueblito Paisa", a replica of an old Paisa village build on top of a mountain in the city centre, which results in stunning views of the city. On the same mountain there's an interesting museum of Medellin's history. In Spanish of course! We also love the Botanical Garden, just as "Parque Explora", which is right next to it. This museum has, next to a huge aquarium, four big interactive rooms, where you can do all kinds of scientific games and tests. Here it wasn't hard to entertain the kid in ourselves for an afternoon!
A metro trip to the neighbourhood of "San Javier", also known as "Comuna 13", is worth your time. You'll find another famous project of the city, huge escalators build within the "barra" (neighbourhood) to improve the mobility of people from this poor neighbourhood. Alongside the escalators you can find stunning street art.
Medellin also offers you more than enough musea, with "Museo del Arte Moderno" being our favourite. Mostly because regularly there's a food truck festival just outside!
Through the organisation of "Real Walking Tours Medellin" we go on an Exotic fruits tour, which guides you over one of the biggest markets of Medellin and has you taste over 16 different kinds of fruit. There really are species we have never seen, which is impressive as Kavita is kind of the uncrowned exotic flora queen! Although with 15 euro a little pricy, we recommend it.
Just as in the other big cities we go looking for a free walking tour and end up doing even two.
The walking tour of "Real Walking Tours Medellin" is very popular and everybody recommends it. Although indeed very informative and led by an enthusiastic guide, with four hours we feel it's taking a little too long. It does give you a very clear view on Colombia's history, in case you didn't look that up for yourself. The tour also takes you to the shop with the best empanada's of the entire town, for some reason enough to go?
Our favourite walking tour is a tour through the neighbourhood "Santo Domingo", which you can reach with the cable carts, part of the metro system. Every Saturday and Sunday at 14h a group of kids that is trying to learn English is giving a tour through their neighbourhood. The project is initiated by an Australian girl and is being led by a super nice and funny dude from England, Casey. With a lot of passion and humour he guides the boys and girls.
Santo Domingo is the kind of neighbourhood you shouldn't walk around in yourself, but in this setting it's totally safe. The boys talk about their life, show where they live and answer our questions. One of our young guides is clearly impressed with Kavita's camera and even takes a few pictures for us.
They also take us to, according to them, the shop with the best empanada's of Medellin. So perks of Medellin: a lot of shops with the best empanada's in town. They are nice and greasy, but as they say it themselves; Paisa have the 'espíritu gordu'. Meaning, they have the fat spirit!
So which empanada's were actually the best? We'd say they were both good!
From Medellin we travel to Guatapé, a relaxed and colourful village known because of its high and bullet shaped rock "del Peñón" and the big estate Pablo Escobar used to own there.
We stay in the "Rock a Town" hostel, basic and fairly priced, on a good location with super friendly staff.
Of course we want to climb the rock to see the famous view. From step one there are signs telling you how much more steps to go, starting from 800. Sounds doable, right? Although it feels like we just did an Insanity workout, we make our way to the top pretty quickly and indeed, the view is worth it. All the small islands look amazing from above, especially with the sun out and the waving Colombian flag in our sight.
During the climb we meet Naomi, together with her husband and little one Miliano. We still don't speak a lot of Spanish and she doesn't speak English, but huffing and puffing is international and that creates a bond. When we reach the top, Naomi treats us to an ice cold "MIchelada", a variation to the Mexican cocktail; Colombian beer with lime, salt on the edge of the glass and a piece of mango in it. It's good!
In Guatapé we also take part in a Pablo Escobar tour. The guide tells us about the estate and we walk around the ruins, but the information is a little superficial and the guide isn't really able to answer our questions. After the tour we still don't really know who Pablo Escobar was. Time to see "Narcos" after all!
As a part of the tour you can play a game of paintball in one of his old houses. Kavita rather stays on the side line, but Jolanda can't wait to get into that suit and shoot some! During one of the games she's picked by the guide as Pablo Escobar, which sounds very cool. But soon enough it turns out that it means hiding most of the game. This gets boring pretty quickly, so she just comes out to help shoot some 'bad guys'. Not very much appreciated by her team mates, as it endangers the game… Whatever!
Our longest stop of Antioquia is in the little village of San Jeronimo. Through the website www.workaway.info we find Hostal "La Finca" (www.hostallafinca.com), where we work for two weeks in exchange for a free place to stay. We clean, work at the reception desk, give tours to guests and work on own projects such as social media and cleaning up of financial documents. When the owners leave in the second week, we are handed over the entire responsibility of the finca and run the hostel for a small week.
The hostel is owned by Alexis and Mathilda, a couple from Germany. Alexis is half Colombian and when he was young his Colombian mother took him to the family finca every summer holiday. A finca is a mansion out of the city, mostly used as holiday destination. It's been his dream to open up his own and he more than succeeded with La Finca.
The Finca is located on a beautiful spot just outside San Jeronimo, from where you can hike to different waterfalls, go have a drink and chat with charming Don Abraham (such a casanova 🙂 ) or just chill out and hang by the pool.
The positive and warm energy of Alexis and Mathilda is spread throughout the finca, there are no obligations and you can do about almost anything you want. As long as there is respect for each other and the surroundings, the possibilities are endless and Alexis and Mathilda help their guests with whatever.
You also notice that in the staff that works on the finca. Nice people, proud Paisa's that love to make you feel at home. Young and headstrong Luisa, who just loves to learn as much as possible. Sweet and quiet Aurora, who we also encounter during one of our walks outside and invites her into her home. The gardener Isaias, who invites us after work to walk with him to his house and caring gives us a piece of chocolate for the way back. It is a hike of 30 minutes up the hill, so the chocolate came in handy. Let's not forget Cania, the finca's dog who is friends with just about anybody.
We also check out the coffee farm of Reinaldo, a 45 minute hike up the hill from the finca. Reinaldo is taking over his father's company, who you can still see walking up the hills by the age of 80! Reinaldo has so incredibly much passion for his work, it's touching, contagious and you can taste it in his coffee. During our tour he plants two new coffee plants and names them Kavita and Jolanda. So, in a few years we'll have our own coffee! 🙂
Our two weeks in San Jeronimo fly by and is without doubt one of the highlights of our trip. If we think back to the finca, it's with a huge smile and we can't wait to come back to it. Alexis and Mathilda, GRACIAS! We miss your beautiful souls.
[ngg_images source="galleries" container_ids="11″ sortorder="378,379,380,381,366,367,368,369,370,371,372,374,375,376,377,382,383,384,385,386,387,388,389,390,391,392,393,394,395,396,397,398,399,400,401,402,403,404,405,406,407,408,409,410,411,412,413,414,415,416,417,418″ ID="5739″ override_thumbnail_settings="0″ thumbnail_width="240″ thumbnail_height="160″ thumbnail_crop="1″ images_per_page="20″ number_of_columns="0″ ajax_pagination="0″ show_all_in_lightbox="0″ use_imagebrowser_effect="0″ show_slideshow_link="1″ slideshow_link_text="[Diavoorstelling tonen]" order_by="sortorder" order_direction="ASC" returns="included" maximum_entity_count="500″ display_type="photocrati-nextgen_basic_thumbnails"]Medellin is awesome. Einde bericht!
Eigenlijk dekt deze statement best de lading, maar natuurlijk willen we graag meer vertellen over Antioquia, een provincie in het noordoosten van Colombia met als hoofdstad Medellin.
Colombia wordt steeds populairder onder Europese reizigers en ook in Nederland zien we steeds vaker in reclames of krantenartikelen de Colombiaanse slogan 'The only risk is wanting to stay' terugkomen . And did we want to stay.. En vooral dankzij Medellin.
Ondanks dat wij over meerdere steden hebben gezegd dat wij hun sfeer voelen, voelen we Medellin het meest van allemaal en weten we zeker dat we hier nog eens terugkomen. De vriendelijke mensen, het Westerse aspect met moderne winkels en metro's, het goede nachtleven, het heerlijke lenteweer het hele jaar door en het mooie groen door de stad heen, er zijn zoveel redenen om van Medellin te houden.
Tijdens onze tijd in Antioquia komen we maar liefst drie keer terug in Medellin! De eerste twee keer verblijven we in de hippe buurt "El Poblado", hier verblijven de meeste toeristen. We verblijven in het hostel "Casa Kiwi", een aanrader als je van een gezellig sfeer en veel gemeenschappelijke ruimtes houdt, zonder dat er altijd maar feest is. In de privékamers kun je je goed terugtrekken. Later verblijven we in een mooi appartement via Airbnb. Die laatste vooral gekozen voor het zwembad op het terrein, maar die ene dag dat we dan echt naar het zwembad wilden bleek het gesloten.
In Casa Kiwi ontmoeten we weer een aantal vrienden van ons San Blas avontuur en zijn we eerlijk gezegd vooral 's avonds in Poblado te vinden. Vooral in "Deck" komen we een paar keer terug, er zijn lekkere cocktails, er wordt veel reggaeton gedraaid en er is een leuk, gevarieerd publiek. Met de voetjes van de vloer!
De derde keer dat we in Medellin zijn, verblijven we in de buurt "La 70". Zo populair als El Poblado is onder toeristen, zo populair is La 70 dat onder "Paisa" zelf: bewoners uit Antioquia noemen zichzelf Paisa. Ook in deze buurt hebben we via Airbnb een appartement, we doen boodschappen, koken hier zelf en we hebben vrienden in de buurt wonen. Het voelt bijna alsof we er wonen.
Medellin is een aantal jaar terug uitgeroepen tot meest innovatieve stad van Zuid- en Midden Amerika door verschillende vooruitstrevende projecten, waarvan het nieuwe metrosysteem de belangrijkste is. De metro heeft in deze grote, heuvelachtige stad echt toegevoegde waarde. Je bent zo in een andere buurt en dat voor een redelijke prijs van 0,80 eurocent.
We hebben veel van de stad gezien. Tips zijn zeker "Pueblito Paisa", een namaakdorpje in oude Paisa stijl midden op een berg in de stad, wat vooral prachtige uitzichten over de stad geeft. Ook is op diezelfde berg een interessant museum dat beknopt de geschiedenis van Medellin weergeeft. Wel in het Spaans he ;). Ook de Botanische Tuin is de moeite waard, evenals het naastgelegen "Parque Explora". Dit museum heeft naast een groot aquarium vier grote interactieve ruimten, waar je allerlei wetenschappelijke proefjes kunt doen. Hier hebben we het kind in onszelf wel een middagje bezig weten te houden. Een metrotripje naar de buurt "San Javier", ook bekend als "Comuna 13", is de moeite waard. Hier vind je een ander bekend project van de stad, namelijk metershoge roltrappen midden in een wijk, om de mobiliteit van buurtbewoners van deze arme buurt te verbeteren. Langs de roltrappen is er prachtige streetart te zien. Musea zijn er ook genoeg, het "Museo del Arte Moderno" is onze favoriet. Mede omdat er naast het museum vaak een foodtruck festival plaatsvindt!
Ook gaan we via "Real Walking Tours" op een Exotic fruits tour, welke je over één van de grootste markten van Medellin leidt en maar liefst 16 verschillende soorten fruit laat proeven. Er zaten ook echt soorten bij die wij nog niet kenden en dat is knap, want Kavita is toch wel de ongekroonde exotische flora koningin! Alhoewel met 15 euro prijzig, een aanrader.
Net als in de andere grote steden gaan we op zoek naar een free walking tour en uiteindelijk doen we er zelfs twee! De walking tour van "Real Walking Tours" is heel erg populair en iedereen raadt het aan. Ondanks dat het inderdaad heel erg informatief is en gegeven wordt door een enthousiaste tour guide, duurt het voor ons nét even iets te lang. De tour is met vier uur net iets te langdradig. Toch geeft het, zeker als je dat zelf nog niet opgezocht hebt, een duidelijk beeld van de geschiedenis van Colombia. Ook brengt de tour je langs de beste empanada's van de stad, voor sommigen misschien al reden genoeg om te gaan?
Onze favoriete walking tour is een tour door de buurt "Santo Domingo", die je bereikt met de skiliften, die onderdeel zijn van het metrosysteem. Hier wordt elke zaterdag en zondag om 14h een tour gegeven door middelbare scholieren die Engels willen leren. Dit project is opgezet door een Australische dame en wordt inmiddels geleid door een ontzettende leuke en grappige gast uit Engeland, Casey. Met veel passie en humor begeleidt hij de jongens en meiden.
Santo Domingo is een buurt waar je zelf vooral 's avonds niet moet rondslenteren, maar overdag in deze groep is het hartstikke veilig. De jongens vertellen over hun buurt, laten zien waar zij wonen en beantwoorden onze vragen. Onze jonge gids is zichtbaar onder de indruk van Kavita's camera en maakt zelfs nog wat foto's voor ons.
Ook nemen zij ons mee naar, wat hen betreft, de zaak met de allerbeste empanada's van Medellin. Voordeel van Medellin, er zijn dus heel veel plaatsten met de allerlekkerste empanada's! Lekker vet zijn ze, maar zoals ze zelf zeggen; Paisa hebben 'el espíritu gordu'. Oftewel, de dikke geest.
Welke empanadas zijn nou lekkerder? Wat ons betreft beiden even lekker!
Vanuit Medellin reizen we naar Guatapé, een relax en kleurrijk dorpje bekend vanwege de hoge en kogelvormige rots "del Peñón" en door het grote terrein dat Pablo Escobar er in zijn bezit had. We verblijven in het "Rock a Town" hostel, basic en goedkoop, op een goede locatie en met super vriendelijk personeel.
Natuurlijk willen we de rots beklimmen om het prachtige uitzicht te kunnen bekijken. Vanaf stap één wordt er verteld hoeveel treden je nog moet, namelijk 800. Klinkt te doen, toch? Alhoewel het voelt alsof we een Insanity sessie erop hebben zitten, zijn we redelijk snel boven en het uitzicht is het waard! De wirwar aan eilandjes in het water geeft een prachtig effect, zeker met het zonnetje en een wapperende Colombiaanse vlag erbij.
Tijdens het klimmen ontmoeten we Naomi met haar man en zoontje Miliano. Wij spreken nauwelijks Spaans en zij geen Engels, maar hijgen en puffen blijkt internationaal en dat schept een band. Daarom trakteert Naomi ons bovenaan op een ijskoude "Michelada", een variant op de Mexicaanse cocktail; Colombiaans bier met limoen, zout op de rand van het glas en een mango erin. Heel lekker!
Ook gaan we in Guatapé mee met een Pablo Escobar tour. Er wordt ons verteld over zijn vastgoed en we lopen over zijn terrein, maar helaas blijft de informatie een beetje oppervlakkig. Ook vragen worden niet goed beantwoord en naderhand weten we eigenlijk nog steeds niet echt wie Pablo Escobar nou was. Wordt het toch tijd om "Narcos" te gaan kijken!
Ook kunnen we tijdens de tour paintballen in een restant van één van zijn huizen. Kavita past liever, maar Jolanda trekt snel een pak aan en kan niet wachten om mee te doen. Als ze tijdens één van de spelletjes als Pablo Escobar wordt uitgekozen, wat eerst heel stoer klinkt maar vervolgens betekent dat ze vooral in een bunker verstopt zit, is ze snel verveeld en komt ze maar gewoon uit de schuilplek om lekker mee te schieten. Daardoor niet erg geliefd bij teamgenoten… Helaas pindakaas!
Onze langste stop in Antioquia maken we in San Jeronimo. Via de website www.workaway.info komen we hier terecht bij Hostal "La Finca" (www.hostallafinca.com), waar we twee weken in ruil voor een slaapplek meewerken in het hostel. We maken schoon, doen de receptie, geven rondleidingen voor gasten en werken aan eigen projecten zoals het uploaden van foto's op social media en het opschonen van administratieve documenten. Als in de tweede week de eigenaren voor vijf dagen weg gaan, krijgen we zelfs de verantwoordelijkheid voor de hele finca en runnen we een kleine week het hostel.
Het hostel is eigendom van Alexis en Mathilda, een stel uit Duitsland. Alexis is half Colombiaans en kwam vroeger in zomervakanties al met zijn moeder mee terug naar Colombia, waarbij ze naar een finca van de familie gingen. Een finca is een soort landhuis, wat meestal als vakantiehuis gebruikt wordt. Het is zijn droom geweest er zelf één op te zetten en dat is meer dan gelukt met La Finca.
De Finca ligt op een prachtige plek even buiten San Jeronimo, waar vandaan je kan wandelen naar verschillende watervallen, een drankje kan gaan doen bij de charmante Don Abraham (echt een oude snoeperd) of gewoon lekker aan het zwembad kan hangen.
De positieve en warme energie van Alexis en Mathilda is overal voelbaar, niks moet en bijna alles mag. Zolang er respect voor elkaar is, zijn de mogelijkheden eindeloos en helpen Alexis en Mathilda hun gasten met wat dan ook. Dit merk je ook aan het personeel dat op de finca werkt. Lieve mensen, trotste Paisa's in hart en nieren, die je graag onderdeel van hun thuis laten zijn. Jonge en eigenwijze Luisa, die vooral heel leergierig is. Lieve en rustige Aurora, die we ook toevallig tegenkomen tijdens een wandeling en ons gelijk bij haar thuis uitnodigt. De tuinman Isaias, die ons na werk uitnodigt voor een drankje bij hem thuis en ons voor de terugweg een chocolaatje meegeeft. Het was ook een klim van 30 minuten, dus dat chocolaatje was al snel op. Laten we vooral ook Cania niet vergeten, de hond van de finca en de grootste allemansvriend.
Ook bekijken we de koffieplantage van Reinaldo, ongeveer drie kwartier omhoog lopen vanaf de finca. Reinaldo neemt het bedrijf van zijn vader over, die je trouwens met zijn 80 (!) ook nog steeds met een flink tempo de bergen ziet beklimmen. Zóveel passie heeft Reinaldo voor zijn werk, het is onroerend, aanstekelijk en je proeft het terug in zijn koffie. Tijdens de tour plant hij twee nieuwe koffieplantjes, die hij Kavita en Jolanda noemt. Dus, over een paar jaar onze eigen koffie! 🙂
De twee weken in San Jeronimo vliegen voorbij en is zonder twijfel één van de highlights van onze reis. Als we terugdenken aan de finca is dat altijd met een glimlach en we kunnen niet wachten om hier weer een keer terug te komen. Alexis en Mathilda, GRACIAS! We miss your beautiful souls.