The Amazon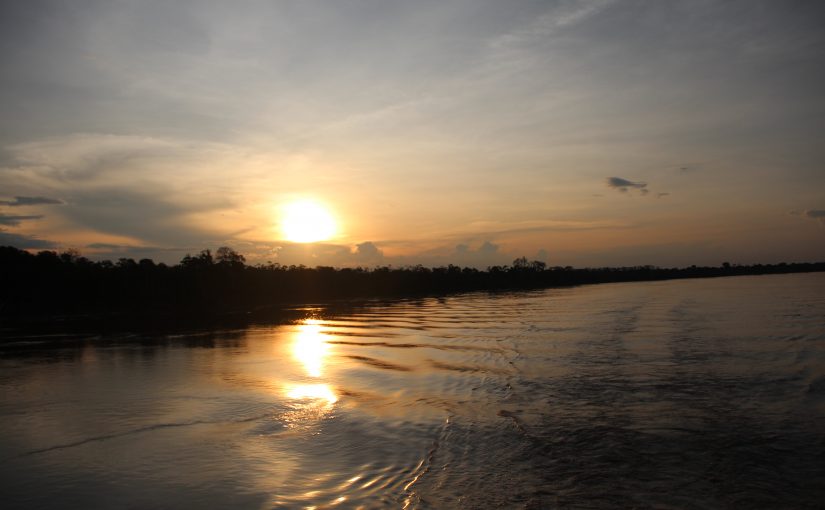 [Dutch version below pictures]
Guyana, Suriname, Curacao.. we're six weeks along and again we ended back up in Colombia! But by now it's time for our final big destination: Brazil!
To leave and let go of Colombia, and especially Medellin which really feels like 'our' city by now, is not easy for us. But in the end isn't that what travel is also about, letting go?
We found a pretty cool way to travel from Colombia to Brasil, if we may say so. From Medellin we take the plane to Leticia, een small town in the Colombian part of Amazon and borders with Brazil and Peru. You can see all three countries from the river bank.
We book a nice family hostel 'La Esperanza', which is hosted by Carlos and his family. We have a small room, but with two super comfy and big beds, a clean bedroom and every morning fresh made breakfast by Carlos – what else do you need?
Although we're still in Colombia, the breakfast has some Brazilian influences: pancakes of tapioca (cassava flower). It's good and very nourishing, but pretty heavy on the stomach and after three days we're glad with some variation.
That Brazilian influence is not that crazy, as we're only 4 km away from the border with Brazil. Custom offices? Passport checks? None of that, you can just walk into Brazil if you want to.
It's our idea to book a boat tour that takes us from Leticia to Manaus in three days. We end up booking the tour in Tabatinga, Leticia's Brazilian neighbor. It turns out that the boat doesn't depart every day, so we chose to stay a little longer at Carlos and end up staying a week (we're just holding on a little longer to Colombia 🙂 ).
We rent the scooter from Carlos' wife and explore the neighbourhood. We drive to the airport in Leticia and to the police station in Tabatinga for our passport stamps, do some groceries for our upcoming trip, have a few beers with a few very happy Colombians who just didn't take no for an answer, search the harbor of Tabatinga (which turns out to be way more difficult than it sounds), check out the Museo Etnografico and drive into the village one night to watch a national soccer match on a big screen. They lose..
We also go on a one day trip. Two young tour guides, Alejandro and Paula, lead us around the area in a small boat. We see very beautiful parrots and gorgeous water lilies, which were a gift from the British Queen Elisabeth. We also see pink (yes, pink!!) dolphins, those only live here in this river. We eat homemade icecream in a native village, but we notice that the 'authenticity' is mostly conserved because of the booming tourism. Sometimes it looks more like a theatre show.
After five relaxed days in Leticia, Carlos takes us to the docks in Tabatinga. The next three days it's just us and the Amazon. There's no entertainment on the boat, but who stated that clearly doesn't factor in the river banks with magnificent trees and villages and the impressive lightning storms every night. Food is well arranged, the Colombian and Brazilian dudes on the back deck are fun and oh man.. that view!
The muddy colour river is whimsical; then it's calm, then it's whirling around. But somehow always serene.
When we reach the area of Manaus the Amazone connects with the Rio Negro, it's called 'encontro das águas'. The muddy Amazone and the black Rio Negro flow next to each other for miles without mixing. It's a peculiar force of nature to see (and saved us € 50,- in excursion money).
Our trip over the Amazon was the perfect way to let go, we're ready for Brazil!
[ngg_images source="galleries" container_ids="16″ display_type="photocrati-nextgen_basic_thumbnails" override_thumbnail_settings="0″ thumbnail_width="240″ thumbnail_height="160″ thumbnail_crop="1″ images_per_page="20″ number_of_columns="0″ ajax_pagination="0″ show_all_in_lightbox="0″ use_imagebrowser_effect="0″ show_slideshow_link="1″ slideshow_link_text="[Diavoorstelling tonen]" order_by="sortorder" order_direction="ASC" returns="included" maximum_entity_count="500″]Guyana, Suriname, Curaçao.. we zijn zes weken verder en toch weer in Colombia beland! Maar inmiddels is het tijd voor onze laatste grote bestemming: Brazilië.
Om Colombia, en vooral Medellin dat inmiddels als 'onze' stad voelt, los te laten vinden we best moeilijk. Maar is dat niet wat reizen vooral is, loslaten?
We hebben een hele toffe manier gevonden om naar Brazilië te reizen, al zeggen we het zelf. Vanaf Medellin stappen we op het vliegtuig richting Leticia, een klein plaatsje in het Colombiaanse deel van de Amazone en op de grens met Brazilië én Peru. Je kunt echt alle drie landen vanaf de oever zien.
We boeken een leuk familiehostel 'La Esperanza' dat gerund wordt door Carlos en zijn gezin. We krijgen een kleine kamer, maar met twee super lekkere en grote bedden, een schone badkamer en een ontbijt dat elke ochtend door Carlos zelf bereid wordt – wat wil je nog meer?
Ondanks dat we nog in Colombia zijn, heeft het ontbijt al een beetje Braziliaanse invloeden: pannenkoeken van tapioca (maniokmeel). Lekker én voedzaam, maar wel heel zwaar op de maag en na drie dagen zijn we blij met wat afwisseling.
Die Braziliaanse invloed is niet zo gek, ongeveer 4km van ons hostel ligt de grens met Brazilië. Douaneposten? Paspoortcontroles? Nee hoor, je wandelt zo Brazilië in als je daar zin in hebt.
Het is ons plan om vanaf Leticia een boot te boeken, waarmee we in drie dagen over de Amazone richting Manaus varen. De tocht boeken we uiteindelijk in Tabatinga, de Braziliaanse buur van Leticia. Omdat de boot niet elke dag blijkt te gaan, kiezen we ervoor om iets langer bij Carlos te blijven hangen en zijn we er uiteindelijk een kleine week (we houden nog héél even vast aan Colombia :)).
We huren de scooter van Carlos' vrouw en verkennen de buurt. We rijden naar het vliegveld van Leticia en de politie in Tabatinga voor onze paspoortstempels, doen boodschappen voor onze aankomende cruise, drinken een paar biertjes met een paar héle vrolijke Colombianen die absoluut geen 'nee' accepteerden op hun aanbod, gaan op zoek naar de haven van Tabatinga (om de een of andere reden veel moeilijker dan het klinkt), bekijken nog het Museo Etnografico en rijden op een avond het dorpje in om op een terras voetbal te kijken want Colombia moet spelen. Ze verliezen..
Eén dag gaan we op excursie. Twee jonge tourguides, Alejandro en Paula, leiden ons met de boot rond in de buurt. We zien mooie papegaaien en prachtige waterlelies, die ooit geschonken zijn door Queen Elizabeth uit Engeland. Ook zien we roze (ja, roze!!) dolfijnen, die je alleen hier in de rivier tegenkomt. We eten zelfgemaakt ijs in een Indianendorp, maar we merken dat het 'authentieke' vooral overeind blijft door het toenemende toerisme. Soms lijkt het wel allemaal toneel.
Na vijf relaxte dagen in Leticia brengt Carlos ons naar de boot in Tabatinga. De komende drie dagen is het wij en de Amazone. Er is geen entertainment op de boot, maar wie dat zegt heeft duidelijk de oevers met zijn prachtige bomen en dorpjes en de ongelooflijke onweersbuien elke avond niet meegerekend. Het eten is goed geregeld, de Colombiaanse en Braziliaanse jongens op het achterdek zijn grappig en dat uitzicht…!
De modderkleurige rivier wisselt af; dan weer rustig, dan weer kolkend. Maar toch altijd sereen.
Als we bijna bij onze eindbestemming Manaus zijn voegt de Amazone zich samen met de Rio Negro, dit noemen ze de 'encontro das águas'. De bruine Amazone en de zwarte Rio Negro blijven kilometers naast elkaar stromen, zonder met elkaar te vermengen. Een bijzonder natuurverschijnsel (en scheelt je weer € 50,- excursiekosten).
Onze trip over de Amazone was de perfecte manier om los te laten, we're ready for Brazil!