Guyana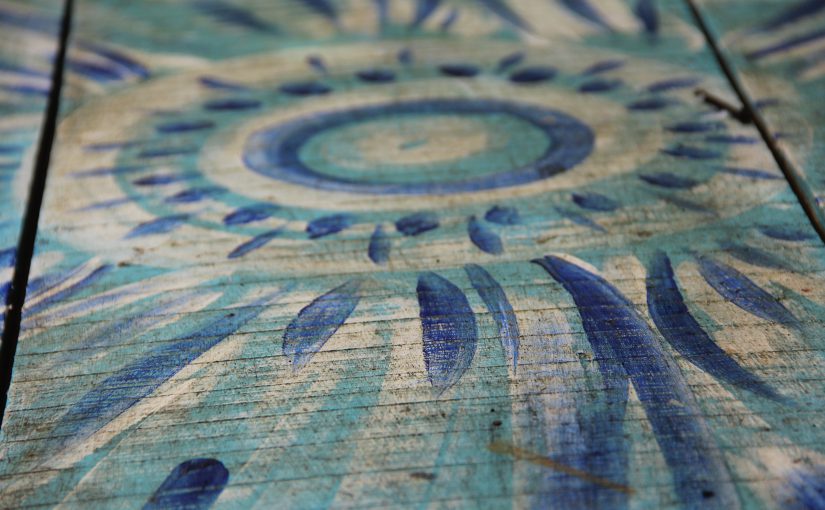 [Dutch version below pictures]
From the start of our trip one thing is for sure, we will be in Suriname in October to celebrate the birthday of Kavita's grandma. To get there it somehow seems fun to us to go to Guyana and cross the river to Nickerie. This is our only goal in Guyana and at first we're not planning on staying any longer.
While in Santa Marta, Colombia, and browsing through the website of "Workaway" to find work in Antioquia, we take a look at the job offers in Guyana. Just to see what's out there.
There are only two hits. One of the two profiles has a warm, friendly man and a beautiful, radiant woman looking at us from their profile picture (see first picture below). Why not, we think and we send an e-mail to ask if there is any possibility to come and work with them in Guyana.
At the end of September we leave Medellin to stay and work with Tracy and Warren Douglas for a week. Our trip with "InselAir" transfers though Curacao and because of the tropical storm "Matthew", which luckily doesn't bring any damage to the island, we strand around midnight on the airport unable to go to Guyana.
InselAir has a good solution and sends us and a big group of Chinese men to a good hotel in the city centre. The group of Chinese is worth mentioning, because none of them is able to speak any other language than Chinese. This resulted in funny situations with the airport staff, who are just waving and pointing to get them in the right direction.
They also don't understand how to fill in their immigration papers and eventually Jolanda ends up with a Chinese passport in her hands, filling in a form as an example for the rest of the group. She does get an elaborate thank you.. although we think, we don't speak Chinese!
Our night could definitely have been worse, there is food, a good bed and in the morning we even have some time to sunbath next to the pool. Kavita posts a positive review about it on the internet.
Later that day we're finally in the plane towards Guyana when a steward finds us and asks who Kavita is. Her post didn't go unnoticed and InselAir is granting her 16.000 miles as a thank you. Hopefully we can use those somewhere the coming months! Thanks Insel!
When the evening already falls and we're finally on the way to our home for the coming week, Guyana treats us to a magnificent sunset. Our driver Kendrick makes a little detour just for us to enjoy the sunset at the river bank. It's a warm welcome.
It's already dark when we arrive at "Pandama" (www.pandamaretreat.com). When we get out of the taxi we can't see anything of the surroundings. Where are we?
But Warren is already waiting for us. A relaxed, tall man with the most friendly eyes we've seen al trip. We know everything is alright.
After our long journey we for sure say yes to his offer of some Guyanese "El Dorado" rum, short after we also meet Tracy and not too late we find our beds to get some much needed sleep.
The next morning we can finally take in the surroundings.
We are appointed our own wooden hut, where Kavita sleeps on the ground floor and Jolanda on the first. The hut is in the middle of the jungle, at night you hear animals wander around and in the morning you can even spot some monkeys.
Our bathroom is few minute walk from the hut, where there is an out in the open shower. A big iron plate covers the view to the rest of the grounds, but straight ahead you look right into the jungle. During your evening shower you have the best view ever with a bright sky covered in stars above you.
The coming days it's back to nature. And we find out we love it.
Warren and Tracy moved from America to Guyana seven years ago, back to the country where Warren was born and raised. They bought these grounds and build their Pandama retreat & winery.
Warren makes wines out of tropical fruits and vegetables (such as eggplant – yes really, eggplant!). Tracy is an artist, makes soap and also hosts Pandama.
In Pandama you can spend the night, but also a lot of guests come for just a day. With their family, friends or partner hanging in one of the hammocks at the creek, while sipping on one of Warren's wines and enjoying Tracy's food.
Tracy's artwork is widely represented, the tables and chairs are painted in beautiful colours and also in the kitchen she makes her art. Because Tracy cooks with her heart and soul and you taste it. Her mashed potatoes, the curry chicken, hamburgers on freshly baked bread, her chocolate chip cookies.. Oh my.
Together with Tracy we develop a daily rhythm. After we all rise and shine, the three of us do our morning workout. We take classes of "Insanity", "Zumba", African dance and hike around on the huge grounds of Pandama.
After our workout it's creek time. Because of Guyana's muddy soil the water is black. As Tracy calls it, her healing black water. We hang around in the water, on the docks or in a hammock and chat like probably only women do. After this Tracy makes us a lovely breakfast.
Of course there's also some work to do. We help with packaging of soap, cutting of wine labels, cleaning up Tracy's studio and cabinets and measuring and cutting materials for Tracy's upcoming show in this November edition of Guyana Fashion Week.
Pandama is a spiritual place in the middle of the jungle. The natural materials that are used, the peace and quiet at the creek, the most beautiful stargazing ever, Tracy's deck of tarot cards and astrology books, it makes us soul search a little during that week (a little soul searching once a while never hurts anybody 😉 ).
After a week we leave Pandama to travel towards Georgetown. We have a last diner with each other, where we provide the roti, Tracy the chicken and we enjoy a bottle of tasteful djamoen wine. It's special to feel such a strong connection with our hosts in only a week time.
Still it's time to move on.
We don't stay long in Georgetown. We walk around the city centre a little bit and try to find some of the best food. Tracy's restaurant tip "Shanta's" turns out to have delicious "coconut choka" (choka is a way of preparing the food, where the ingredient is grilled for a smokey flavour), but the traditional Guyanese dish "pepperpot" isn't really up our alley. A little bit of the same, strong flavour and the hard cassava bread isn't really our thing.
While wandering around in "Sharon's building", a small mall, we bump into someone we also met in Curacao. Vincent Shelto is a young makeup artist who rents his own studio on the second floor of the mall to give makeup workshops. His classes are completely sold out and Vincent dares to be the true and best version of himself. An inspiration to many!
In Georgetown we visit the Surinamese embassy to get our tourists cards, which turns out not be that easy. At first we are not allowed to get in, because we are not dressed appropriately (we are wearing pants with high, covering tops?!). When we finally get in, it turns out we have to wait five hours for our papers. Time to update that customer service, Madame the Surinamese Ambassador!
But of course, as always, it all works out and we are ready to go and celebrate the birthday of Kavita's grandma. At 4h in the morning we are picked up at "Rima's Guesthouse" and our journey to Suriname begins.
Guyana, you were short, but oh so powerful!
[ngg_images source="galleries" container_ids="12″ override_thumbnail_settings="0″ thumbnail_width="240″ thumbnail_height="160″ thumbnail_crop="1″ images_per_page="20″ number_of_columns="0″ ajax_pagination="0″ show_all_in_lightbox="0″ use_imagebrowser_effect="0″ show_slideshow_link="1″ slideshow_link_text="[Diavoorstelling tonen]" order_by="sortorder" order_direction="ASC" returns="included" maximum_entity_count="500″ display_type="photocrati-nextgen_basic_thumbnails"]Vanaf het begin van onze reis weten we één ding zeker, in oktober gaan we naar Suriname voor de verjaardag van Kavita's oma. Het is een van de weinige plannen die vast staat en het lijkt ons zomaar leuk om met de boot vanaf Guyana naar Nickerie over te steken. In principe is dit het enige dat we in Guyana willen doen en zijn we in niet van plan langer te blijven.
Terwijl we in Santa Marta, Colombia, door de website van "Workaway" surfen op zoek naar werk in Antioquia, nemen we voor de grap eens een kijkje naar de mogelijkheden in Guyana. Er zijn slechts twee hits. Bij één van deze twee hits kijken een warme, vriendelijke man en een mooie, stralende vrouw ons aan vanaf hun profielfoto (zie eerste foto hieronder). Waarom niet, denken we, en we sturen een mailtje om ook in Guyana te mogen komen werken.
Zo gezegd, zo gedaan en eind september vertrekken we uit Medellin om een week bij Tracy en Warren Douglas in Guyana te komen werken. De reis met "InselAir" loopt via Curaçao en door de tropische orkaan "Matthew", die gelukkig verder geen schade aanricht op het eiland, stranden we rond middernacht op het vliegveld en kunnen we niet verder naar Guyana.
InselAir lost het goed op en stuurt ons met een grote groep Chinezen naar een goed hotel in de stad. De groep Chinezen is het vermelden waard, omdat geen één van hen een andere taal dan Chinees spreekt. Het leidt tot hilarische situaties tussen hen en het vliegveldpersoneel, die elkaar totaal niet begrijpen. Ook lukt het hen niet om hun immigratiepapieren in te vullen, waarna Jolanda er uiteindelijk met een Chinees paspoort in haar hand één staat in te vullen als voorbeeld. Ze wordt er wel uitgebreid voor bedankt.. denken we tenminste, want we spreken geen Chinees!
We kunnen het erger treffen, er is eten, een lekker bed en 's morgens nog tijd om even in de zon te liggen aan het zwembad. Kavita plaatst er een positieve post over op het internet.
Later die dag zitten we dan toch eindelijk in het vliegtuig richting Guyana, als een steward ons opzoekt en vraagt wie Kavita is. Haar post is niet ongemerkt voorbij gegaan en InselAir beloont haar met maar liefst 16.000 miles. Hopelijk kunnen we die de komende maanden nog gebruiken! Thanks Insel!
Als de avond inmiddels al is gevallen en we eindelijk op weg zijn naar ons thuis voor de komende week, trakteert Guyana ons op een schitterende zonsondergang. Onze taxichauffeur Kendrick neemt een omweg en stopt aan de kant van de rivier om ons een extra goed uitzicht te geven. Het is een warm welkom.
Het is al donker als we aankomen in "Pandama" (www.pandamaretreat.com). Als we de taxi uitstappen op het terrein van Pandama krijgen we weinig mee van de omgeving, waar zijn we?
Maar Warren staat ons op te wachten. Een rustige, lange man met de meest vriendelijke ogen die we deze reis gezien hebben en we weten dat het wel goed zit.
Na die lange reis hebben we wel zin in de Guyaanse "El Dorado" rum die hij ons aanbiedt, kort erop ontmoeten we ook Tracy en daarna gaan we eigenlijk al snel naar bed.
De volgende morgen kunnen we pas goed bekijken waar we nou eigenlijk zijn. We hebben een eigen houten huisje aangewezen gekregen, waarvan Kavita op de beneden- en Jolanda op de bovenverdieping slaapt. Het huisje ligt midden in de jungle, waar je 's nachts de dieren hoort scharrelen en 's morgens aapjes kunt spotten.
Onze badkamer vinden we op een paar minuten lopen van het huisje, waar we een buitendouche hebben. Een grote ijzeren plaat scheidt de douche af van de rest van het terrein, maar aan de andere kant kijk je recht de jungle in. 's Nachts heb je ook tijdens het douchen het mooiste uitzicht ooit, een heldere sterrenhemel.
De komende dagen is het echt terug de natuur in. En dat blijkt heerlijk te zijn.
Warren en Tracy zijn zeven jaar geleden van Amerika naar Guyana verhuisd, waar Warren geboren en getogen is. Ze hebben dit stuk grond gekocht en hier hun Pandama retreat & winery gebouwd. Warren maakt wijn van tropische groenten en vruchten (zoals aubergine, ja echt, aubergine!). Tracy is kunstenares, maakt zeep en is daarnaast gastvrouw van Pandama.
In Pandama kan overnacht worden, maar veel gasten komen ook langs als daguitje. Met het gezin, vrienden of partner lekker in een hangmat hangen, onder het genot van één van Warren's wijnen en Tracy's maaltijden.
Tracy's kunststempel is op alles gedrukt, de tafels en stoelen zijn in mooie kleuren beschilderd en ook in de keuken voert zij haar kunst uit. Want koken, dat doet ze met hart en ziel en dat proef je. Haar aardappelpuree, de curry chicken, de hamburgers met vers brood, de chocolate chip cookies… Watertanden!
We ontwikkelen al snel samen met Tracy een dagelijks ritme. Na het opstaan gaan we met z'n drieën sporten, we doen "Insanity", "Zumba", Afrikaanse dans en wandelen rond op het grote terrein van Pandama.
Na het sporten nemen we een dagelijkse duik in de grote poel op het terrein. Door de modderige grond in Guyana is het water hier bruin, zoals Tracy het noemt haar 'healing black water'. We hangen in het water, op de steiger of in een hangmat en kletsen zoals waarschijnlijk alleen vrouwen dat kunnen. Daarna zorgt Tracy elke dag voor een heerlijk ontbijtje.
Natuurlijk moet er ook wel een beetje gewerkt worden. We helpen met het inpakken van zeep, knippen van etiketten, het schoonmaken van Tracy's studio en kasten en het afmeten van stoffen ter voorbereiding van Tracy's deelname aan Guyana Fashion Week dat in november plaatsvindt.
Pandama is een spirituele omgeving midden in de jungle. De natuurlijke materialen, de rust bij de poel, de mooiste sterrenhemel ooit, Tracy's tarrotkaarten en astrologieboeken, het zet aan tot wat soul searching die week (moet af en toe ook gebeuren, hè).
Na een week vertrekken we richting Georgetown, omdat we op tijd in Suriname willen zijn. We dineren nog een laatste keer gezellig met elkaar, waarbij wij de roti maken, Tracy de kip en er een fles djamoen wijn wordt opengetrokken. Het is speciaal om in zo'n korte tijd een sterke band met onze hosts te voelen.
Toch is het dan tijd om verder te gaan.
In Georgetown verblijven we kort. We zien wat van de binnenstad en gaan op zoek naar het beste eten. Tracy's restauranttip "Shanta's" blijkt heerlijke "coconut choka" (choka is een manier van bereiden, waarbij het ingrediënt geroosterd wordt voor een rokerige smaak), maar het traditionele Guyanese gerecht "pepperpot" valt ons een beetje tegen. Iets teveel van dezelfde, sterke smaak en ook aan het harde cassavebrood kunnen we niet echt wennen.
Tijdens een beetje rondslenteren in "Sharon's buiding", een klein winkelcentrum, lopen we opeens tegen iemand aan die ook met ons vastzat op Curacao. Vincent Shelto is een jonge visagist, die op de tweede etage een eigen studio gehuurd heeft om make up lessen te geven. Zijn lessen zijn helemaal uitverkocht en Vincent durft helemaal zichzelf te zijn. Een voorbeeld voor velen!
We gaan in Georgetown langs de Surinaamse ambassade voor onze toeristenkaart, die we overigens niet zomaar meekrijgen. Het blijkt een heel gedoe. Eerst zijn we niet netjes genoeg gekleed om naar binnen te mogen (we dragen lange broeken en hoge topjes?!), vervolgens moeten we ook nog eens vijf uur op onze kaart wachten. Tijd voor een update op de klantenservice, mevrouw de Surinaamse ambassadrice!
Maar natuurlijk, zoals altijd, komt het uiteindelijk goed en zijn we klaar om de verjaardag van Kavita's oma te gaan vieren. Om 4h 's morgens worden we bij "Rima's Guesthouse" opgehaald en de reis naar Suriname begint.
Guyana, je was kort, maar krachtig!