Samos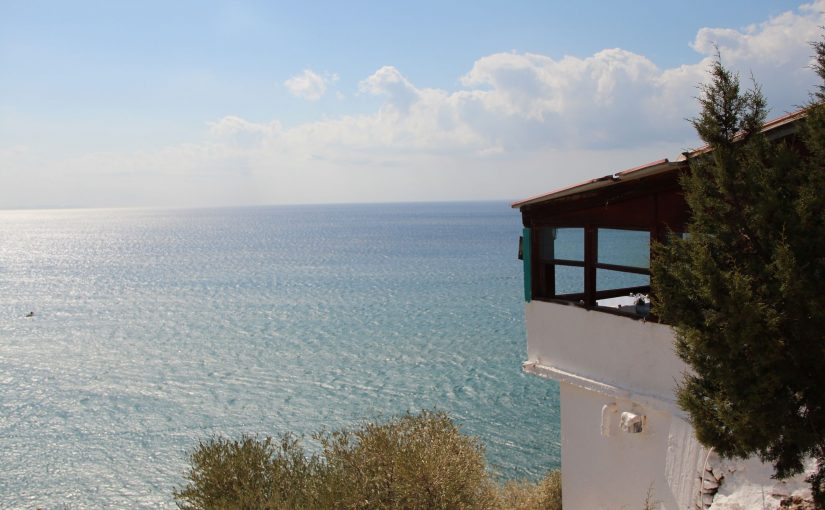 [Dutch version below pictures]
It's June 2017, Kavita just got back from Suriname and we're sipping on some good Merlot at the library's café. All of a sudden we realize we don't have any plans for a next trip. Impossible! One week later our holidays are requested and confirmed :).
Where to go turns into a classic last-minute. Booking last-minute reservations nearly ever saves us money and it kind of decreases your choices. Greece is on the top of our list, because we feel like eating some gyros!
Because all popular and known destinations are already fully booked, we find this little island called Samos. It's a Greek island bordering with Turkey and unknown to both of us. On Samos the sun is shining, there is sea and a lot of beach.. it's an easy decision really.
We leave very early in the morning, so we arrive still early in the day and directly transfer to our apartment in accommodation Pelagos in the bay of Votsalakia.
Samos has two popular touristic villages, Kokkari and Pythagorion. We skip those villages and choose the quiet village of Kampos. No busy beach clubs or happy hours, but a wide beach, friendly people and delicious, fresh food.
Are you looking to party, find entertainment and distraction? Then Samos might not be the destination for you. But if a lush, mountainous island where the Aegean sea is constantly sparkling into your eyes makes you happy? Go check it out.
Rent a car and visit some mountain villages, such as Kallithea and Manolates. Enjoy the stunning views from the coastline, taste all the amazing food and by all means enjoy all the starters.. We had the best fried eggplant ever!! One of our favorite restaurants was Mama's Kitchen. Don't forget to enjoy some sweet Samos wine and relax on a beach lounger at Niko's.
You'll find all of this within an only 3,5 hour flight from Amsterdam! We might have not gained as much frequent flyer points as we are used to, but a short flight like this is perfect for a shorter get-away.
There's a chance Samos might meet us again some day :).
[ngg_images source="galleries" container_ids="18″ display_type="photocrati-nextgen_basic_thumbnails" override_thumbnail_settings="0″ thumbnail_width="240″ thumbnail_height="160″ thumbnail_crop="1″ images_per_page="20″ number_of_columns="0″ ajax_pagination="0″ show_all_in_lightbox="0″ use_imagebrowser_effect="0″ show_slideshow_link="1″ slideshow_link_text="[Diavoorstelling tonen]" order_by="sortorder" order_direction="ASC" returns="included" maximum_entity_count="500″]
Het is juni 2017, Kavita is net terug uit Suriname en we zitten in het café van de bibliotheek aan een heerlijke Merlot te sippen. We beseffen ons dat we nog geen concrete plannen hebben voor een volgende trip. Dat kan niet! Een week later zijn de vrije dagen aangevraagd en goedgekeurd :).
De bestemming wordt een klassieke last-minute. Last-minute boeken scheelt ons vrijwel nooit in de prijs en het vermindert je keuze. Griekenland staat bovenaan onze lijst, want we hebben zin in gyros. Doordat de bekendere bestemmingen al volgeboekt zij, komen we via via uit op Samos. Een Grieks eiland nabij de grens met Turkije waar we allebei nog nooit van gehoord hebben. De zon schijnt er, er is zee en strand, de keuze is gemaakt.
We vertrekken 's morgens vroeg, komen daarom nog vroeg aan op Samos en rijden gelijk door naar ons appartement in het complex Pelagos aan de baai Votsalakia.
Samos kent twee grote badplaatsen (groot is op dit eilandje relatief), namelijk Kokkari en Pythagorion. Wij zitten in geen van beiden, maar in het rustige dorpje Kampos. Hier geen drukke strandtenten of happy hours, maar een uitgerekt strand, vriendelijke mensen en heerlijk, vers eten.
Ben je op zoek naar feest, entertainment en afleiding? Dan is Samos misschien niet de bestemming voor jou. Maar word jij blij van een prachtig groen, bergachtig eiland waar de Egeïsche zee je constant tegemoet schittert? Go check it out.
Huur een auto en trek de bergdorpjes in, zoals Kallithea en Manolates. Geniet van de uitzichten langs de kustlijn en proef al het heerlijke eten zoals bij restaurant Mama's Kitchen. Sla vooral de voorgerechtjes niet over, best fried eggplant ever!! Geniet van de zoete Samos wijn en relax op een strandstoel bij Niko's.
En dat alles op maar 3,5 uur vliegen van Schiphol. Deze week hebben wij onze Frequent Flyer spaarpot niet echt gespekt, maar zo'n korte vlucht is toch best fijn voor een weekje weg.
Wellicht ziet Samos ons nog wel eens terug :).